Payment in 3 times without fees with CM-CIC
from 300 € onwards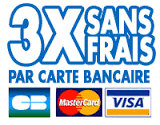 Accessoires4x4. com offers you a solution of payment in 3 times without expenses possible for your orders ofaccessoires 4x4 from 300,00 €
You can purchase today the accessoires 4x4 that you were thinking of putting off.
A good solution for important accessoires 4x4 a good solution for important items such as hard tops, tipper covers, electric running boards, rims etc.
Now you can also pay in 4 times with PayPal
from 50 € to 2 000 € 
For what amount and at what cost?
Valid for the purchase of your accessories from 50 € to 2000 €.
The costs are low, they are only 2.1% of the amount of your purchase and are capped at €20. These fees will be divided equally between your four installments.
How to proceed?
1. Choose PayPal as your payment method at the time of purchase.
2. Payment in 4x will be displayed if available, select it.
3. Your request is verified online within seconds.
4. Finalize your payment.